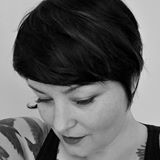 You found your way here! I use this space to share my photography and thoughts, as well as to house external links to art, design, culture, architecture, music, etc. articles that might interest me.
I am happily (and busily) working for a creative technology company. While I did freelance design work for many years, I'm no longer taking on new projects (save for the occasional project for friends or family that I find compelling).
This is my personal space. I'm letting you in, so be nice, don't steal, don't spam, and say hello back.
© 2023 – Shannon Marie Brown. All rights reserved.